Friday, January 13, 2012
If you know me you also would know that I love eyeliner. Most of the times i rocking a nice black wing. But to my suprise my old eyeliner was almost empty. Time to buy a new one. And with a nice "buy one get one free" I ran to the nearest drugstore and went directly to the Catrice display. read more for pictures and swatches
Catrice is a nice budget brand and those liners cost round
€
3.70 which is not really expensive for an eyeliner. There where if I am correct 5 different shades. First I snatched up a black one and the second was after a little debate a golden color.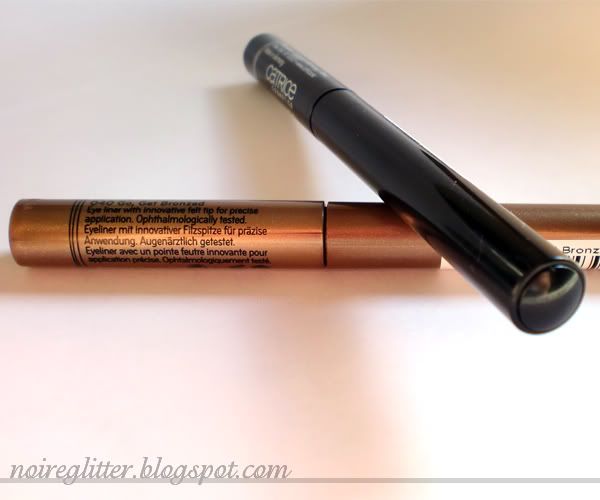 The liners are a decent size with 1.7ml of product. If you look really good you see it has a long cap which makes it easy to hold.
One thing that I adored before even trying them are the names. Dating Joe Black is very nicely found. Also nice clean package with matching full body color. It takes five seconds to find the right color in my make-up stash with these liners.
Now the tip is felt and till now I haven't tried felt tipped. Yes I am a felt tipped virgin but I found my newest love. They make it easy to tight line, set a straight line and make a nice wing. Also they aren't to hard in texture. Now I also made some swatches.
As you can see it in the top picture, it sets a nice thin line but can also make a tad fatter line. Now in the second picture I rubbed over it a few times. it did smudge a bit, also in the third picture it shows it isn't waterproof. But I have to say these aren't the waterproof version so I don't mind. Catrice also has these liners in waterproof [black only] but whenever I look for them they are sold out.
All in all I adore this liner. It sets a beautiful line.