Sunday, January 8, 2012
Sadly enough I don't own a full size of Lola yet I received a tester. Today I am going to share my opinion about this smell. To start of I adore the bottle and design, I think it is stunning. Read more for the rest
I must say I love everything about the design, the shape of the bottle, the other products from the same line and the press images. Lets start with how the perfume is described online.
Joyful notes of sweet fruits (pear, red grapefruit) with pink pepper accents put a spin in your step, while peony, rose, geranium, couple with vanilla, creamy musk and Tonka bean conspire to give a naughty wink beneath that hip fringe of hair: Lola is a girl full of joie de vivre
Spraying this on a sweet air filled my room. It reminded me of summer and standing in a flower field. It's a sweet scent that feels very romantic. Fun thing is that I sprayed it on my hand and while typing it I had to smell it over and over again, somehow this is the way I want smell to other people. Sweet and Innocent.

Yes I went a tad poetic with that part yet that is the way I feel about this smell.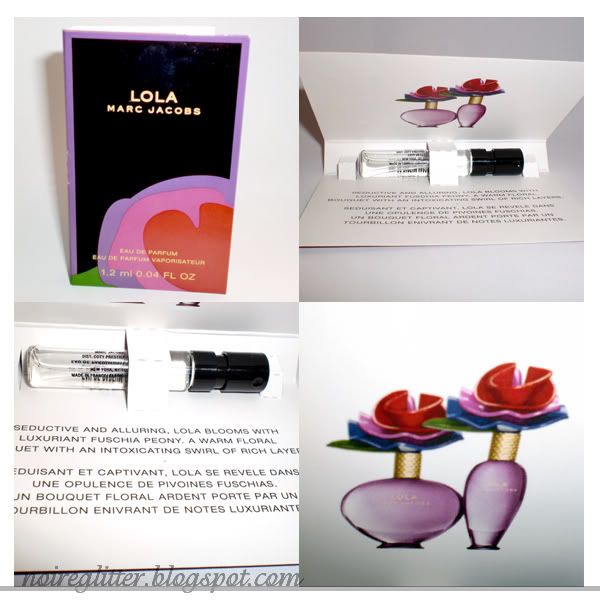 While Marc made a stunning designer bottle I would have loved to see it in a light pink bottle that would really fit this smell although the purple seems very regal. One small note Mr Jacob also added showergel, body lotion and body cream to his Lola collection.

Would I buy this perfume? Not at the moment, I think this smell is really suited for summer and during the summer I will surely be on the lookout for this one.
Pricing for this scent is
30 Ml 49.00
50 Ml 67.00
100Ml 89.00