Monday, December 26, 2011
For Christmas I received a pendant that I have been lusting after for almost a year now. My mom thought the pendant was far too ugly for the price and everytime I dropped the subject about my dream pendant cause she was right it was expensive. This Christmas I was stuck on what to ask, I decided to follow my dream about owning my own Mi Moneda...
Would I regret it?
After
browsing online
, seeing a lot of own pictures and going to the store I decided what I wanted. I went to
time for watching
and let me see my choices. I knew I wanted a Roca but what colour would look more amazing in the silver setting? You might remember this from my wishlist.
It looks amazing yes? But in the store I also saw purple, and I adore purple. So after debating I decided to get the color that fits my wardrobe more...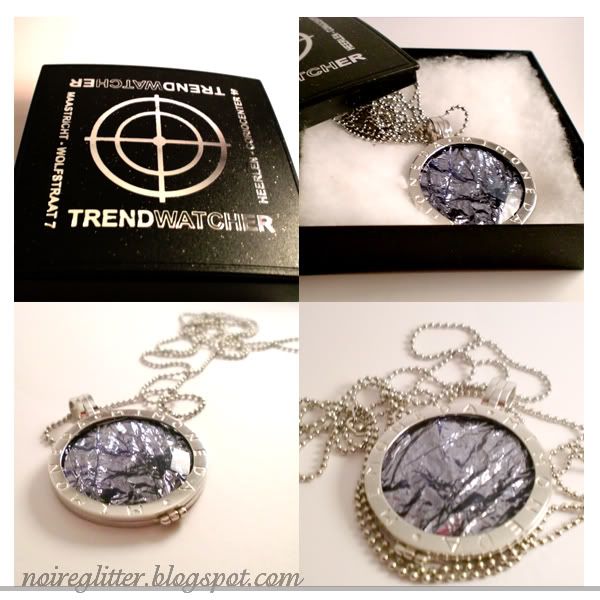 Also please note the awesome box it came in. The one thing I enjoy about jewelry is that it most of the times comes in a cute box. Also the chain is 90CM [bellybutton length] and from ebay. I must admit that this necklace is far more photogenic then I imaged. The way it glitters in light makes me wish for summer so I could wear it. Also it has facets that are very hard to see but make the coin inside smooth. Yes coin inside, remember that I mentioned I couldn't pick any color. the pendant and the coin are separate and so giving me endless possibilities to buy coins and combine.
In picture two and three I opened it slightly so you can see the system. It works like a charm! Also the backside is nice and sturdy as you can see in picture one. Have I mentioned that is is sterling silver? It is truly a piece that I can see myself still wear many years from now. I am even planning to buy an other coin, I got my eye locked on a gold tone coin. Also I am still on the lookout for a more expensive silver necklace.
Also for the people who are interested:
Pendant: 62.50 euro [Size Large, 33MM]
Coin: 15.00 euro [Size Large, 33MM]
Necklace: 3,00 euro [Size 90CM long, 1.5mm ball chain]
I am going to end with a glamour shot and the question, What do you think about my new necklace? Also I got a new format of pictures sizes and header size, what do you think?